Blog and Win Asus M4A89GTD Pro/USB 3.0
I want to win Win Asus M4A89GTD Pro/USB 3.0 with Core unlocker
Because its the ideal performance and great quality suited for blogger like me.
Its very fast and has a very good graphics result with a perfect gadget combination.
Its also end user friendly so its easy to assemble and manipulate.
So the IT stuff i would highly recommend to my followers, fellow blogger
professionals and family as well as friends.
Thanks,
Jayson Biadog
09279896797
http://www.techspot.com/review/252-asus-m4a89gtd-amd-890gx/
Asus M4A89GTD Pro/USB3 Motherboard Review: AMD's 890GX Chipset Makes Its Debut
AMD has dominated the HTPC market for some time now with their impressive IGP line-up. The
790GX
chipset sporting integrated Radeon HD 3300 graphics and the 785G with its built-in Radeon HD 4200 GPU have gone beyond what Intel has been able to offer by a long stretch until just recently, not only in terms of performance but also value to the consumer. Current
motherboards
offerings using the well rounded AMD 785G chipset can be purchased for as little as
$60
, with higher quality versions going for about
$90
. Meanwhile, Intel was falling short of the mark as their G45 chipset with integrated GMA X4500HD graphics was simply not up to the task. But with the release of the
new Core i3/i5 32nm processors
last January Intel introduced the
GMA HD graphics engine
, their most powerful yet.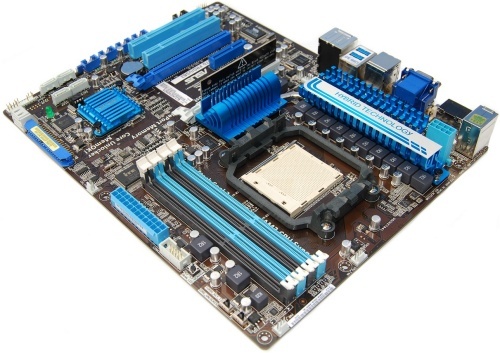 As we all know by now, Intel's latest graphics engine comes built in the processors, though users will still require a designated motherboard and chipset to use it. The
H55, H57 and Q57 chipsets
were introduced to accommodate these new processors. As it stands today, the cheapest H55 motherboards are retailing for $85, while most are selling for
around $100
making them slightly more expensive than competing 785G motherboards. The 785G chipset is very similar to the GMA HD/H55 combination in terms of features, price and performance.
It would seem as though AMD wishes to keep their clear cut advantage in this segment, and to that end they have been preparing a more powerful chipset for quite some time. Today we'll be looking at the new AMD 890GX chipset, featuring Radeon HD 4290 integrated graphics and SATA 3.0 (6 Gbps) support.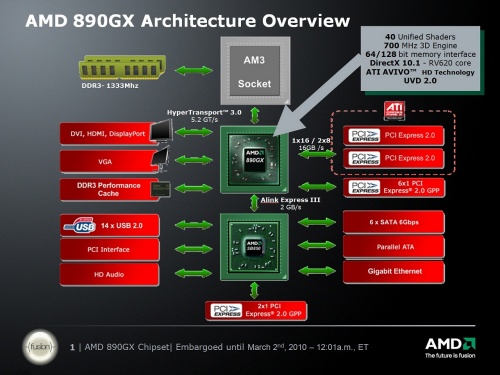 Showing off the 890GX is the Asus M4A89GTD Pro/USB3. This new AM3 motherboard features a 10-phase CPU VRM supporting future AMD CPUs with a 140W TDP, namely the upcoming
hexacore processors
. The M4A89GTD also makes use of the AMD SB850 south bridge that provides six SATA (6Gb/s) ports, while an additional JMicron JMB361 controller offers an IDE connector and a lone eSATA (3Gb/s) port.
Expansion slots include a pair of PCI Express 2.0 x16 slots (x8/x8 when both are populated), dual PCI slots, one PCIe x1 and one PCIe x4 slot. Connectivity includes 8+2 channel HD audio with optical SPDIF output, Gigabit Ethernet, USB 3.0 ports, Firewire, and display connectivity including DVI, D-Sub, and HDMI.
All-in-all this is an impressive looking motherboard and should be the perfect catalyst for showing off AMD's new 890GX chipset.